Thrower's Elbow or Golfer's Elbow (Medial Epicondylitis, Medial Elbow Tendinosis)
Anatomy
The medial epicondyle of the humerus, a bony prominence on the inside of the elbow, is the common site of attachment for most of the flexor muscles of the forearm. Golfer's Elbow is pain and inflammation on the inner side of the elbow, where the tendons of the forearm muscles attach to the bony bump on the inside of the elbow (medial epicondyle).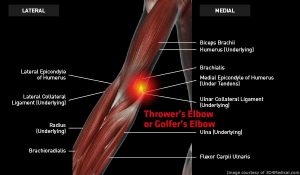 Mechanism of Injury
Strain from repeated, forceful wrist flexion and pronation (twisting of the forearm in towards the body), eg. gripping a golf club during a shot, or a tennis forehand with topspin. This can cause degeneration and inflammation in the associated tendons.
Symptoms
Pain and tenderness on the inner side of the elbow. Sometimes the pain extends along the inner side of the forearm.
Pain occurs over the medial epicondyle or just below it with resisted wrist flexion or forearm pronation.
Elbow may feel stiff.
It may hurt to make a fist.
There may be weakness of the hand and wrist.
Treatment
Please consult with your medical professional for a complete diagnosis and treatment plan.