Lateral Ulner Ligament Injuries (Skier's Thumb, Gamekeeper's Thumb, Stener's Lesion)
Anatomy
The ulnar collateral ligament complex of the first metacarpophalangeal (MCP) joint is the side ligament at the thumb web space or the base of the thumb. This ligament checks valgus stresses at the joint.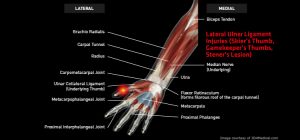 Mechanism of Injury
Forced abduction and sometimes extension at the first MCP.
It may be acute, eg. from a ball striking the end of the thumb, or chronic, and/or repeated force as poles hit the snow in skiing.
Symptoms
In the thumb web space pain occurs.
Tenderness when pressure is applied to the thumb web space at the side of the MCP joint.
Bruising and swelling.
Joint instability.
Weakness of the pinch grip on the affected hand.
Treatment
Please consult with your medical professional for a complete diagnosis and treatment plan.