Inflammation / Strain of Back Muscles Attachments
Anatomy
The spine is bordered by several groups of muscles: the superficial back muscles that attach to the spine but control limb movement and aid respiratory function, the intrinsic or deep back muscles (of which there are four layers) that act specifically on the spine, moving and stabilising it, and the muscles that attach anteriorly.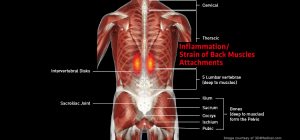 Mechanism of Injury
Forceful or repeated back movements, in particular rotation.
Symptoms
Pain during exertion.
Aching after exertion.
Tenderness on pressure at the muscle attachment, near the spinous processes (bony prominences in the midline of the back).
Contraction of the affected muscle triggers pain in its attachment.
Treatment
Please consult with your medical professional for a complete diagnosis and treatment plan.