Medial Elbow Instability (Rupture or Strain of the Medial Collateral Ligaments)
Anatomy
The medial collateral ligament (MCL) of the elbow is triangular in shape, consisting of three parts: ananterior, a posterior and an oblique (side) band. It extends between the medial epicondyle of the humerus (bony prominence on the inside of the elbow), the coronoid process of the ulna (bony prominence of the inside of the forearm) and the olecranon (tip of the elbow). Its role is to resistvalgus stress, providing medial stability to the elbow.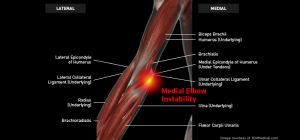 Mechanism of Injury
Excessive valgus stress.
May be acute, eg. from a fall, or chronic and/or from repetitive throwing in baseball pitchers or tennis serves.
Symptoms
Sudden or gradual onset of medial arm pain.
Tenderness is felt over the ligament, on the inside of the elbow.
There is a sensation of the elbow 'opening' or 'giving way' with activities relating to repetition of throwing.
Treatment
Please consult with your medical professional for a complete diagnosis and treatment plan.